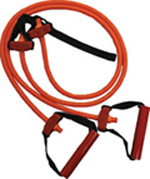 Elastic Bands


These convenient devices are a versatile, lightweight tool that can be used for simple movements for beginners, and can increase in difficulty all the way to complex, multi-planar movements for more advanced or specific training.

Bands are inexpensive and easy to transport.

The resistance given by bands and tubing is elastic, which is a unique element to this mode of training. As elastic stretches, resistance increases so the load put on the muscle increases throughout the movement. This is different from traditional weight training, and other modes of body weight training, which rely on gravity.

The versatility of bands also allows you to perform exercises from a sport specific position or when mimicking a sport specific movement (i.e. swim stroke, or golf swing).

When performing any exercise the resistance can easily be adjusted depending on how close or how far away you are standing from the anchor point. If you want more resistance…step further away from the anchor, which adds tension. If you want less… take a step closer to reduce tension. Bands also come in a variety of thicknesses and tensions that provide a large range of resistance.


Bands can be anchored with a standard door anchor at ground level, chest height, or from the top of the door depending on the exercise being performed. They can also be tied around or hooked to anything stable such as rails, fencing, tree branches, whatever you can find that is accessible.




High Anchor: Resistance level will be coming from above. Good for pull-downs, triceps extensions, and high to low chops.


Mid Level Anchor: Resistance angle will be at about chest level. Good for Presses and Rows, flys, reverse flys and rotational core work.


Low Anchor: Resistance angle will be coming from the floor. Good for shoulder presses, bicep curls, upright raises, squat presses and low to high chops.
The Rip Trainer:
I wanted to give this tool a shout out because it is one of my favorites. Personally, not many exercises that I do give me quite the combination of core and full body resistance and strength, than some of the movements I can do using this tool.
At the core, it's simply a bar with an elastic band attached that can be anchored in that same way any band can, to a door anchor, or anything else that is stable and available. You get the stability of pushing the resistance through a solid bar, and the flexibility of moving through any plane of movement you wish. Exercises can be performed asymmetrically for increased core stability and awareness, and sport specific movements such as a golf swing or slap shot can be mimicked more realistically, or movements can be combined or stacked on top of each other, for a more demanding or cardio-focused workout.
The only drawback is that you will need more space for some of the exercises than a hotel room might offer. You also may need to purchase an additional band if the medium resistance back that comes with it is too hard or too easy for you. The bands come in Light, Medium, Heavy, Xheavy and XXheavy.
Ready to progress?
We have provided a video library of these exercises
Here
. Feel free to browse through to get some ideas or select a series of exercises to put together a workout.
We do have a couple of videos providing more detailed instruction of some of the movements
HERE
.

Just starting out?

Start Simple: A pressing, a pulling, a rotational and a lower body movement makes for a great beginner's full body program.

Get creative! Increase the number of repetitions and reduce rest times between sets, perform more complex movement, increase the resistance of the band or the speed of the movement.