Cycling Center Dallas Blog
Here we talk about all things cycling - training, wattage, group rides, bike rallies, triathlons, weather, coaching, coaches, nutrition, ponderings, musings, and equipment! If you have a topic or a question, send us a note and we'll try to answer for you!
Xert alone is a great tool, but it's even more powerful with PerfPro Studio! Watch and see!
---
I've been meaning to write this for weeks now, but the new information has been coming in so frequently that I've literally been unable to keep up. That said, here's what I'm seeing…
· My Xert Users are achieving fitness breakthroughs in their Xert modeling, and their Focus.
· I Myself am seeing this in my own riding. I'm trying to set new Max Wattage PR's now and then, and I'm also trying to "Game the Hill" using the MPA and Wattage Xert app.
· I'm instructing my clients to do the same.
Here are a couple of examples…:
Jim is a recreational cyclist in his 60's, who contracted with me because he was sick of getting dropped on rides with his peers. He also wanted to learn how to be a better climber for the times when he traveled to Colorado.
Climbs in Dallas are much different than climbs in Colorado, but the idea is still the same; improve fitness, then "Focus" on the area of training that will best fit your activity profile. Jim wanted to be a climber in the summer, and, honestly, a "Puncheur" when riding in Dallas. So I set him up with the Xert Apps, taught him how to keep the rider profile current through Garmin Connect and Garmin Express, and gave him some specific intervals during the week.
Things started happening in late September, and I THINK THEY ARE JUST REALLY, REALLY cool!
In Mid-September, while it was still hot and windy, but travel season was over, Jim had a Fitness Signature on Xert of:
· Peak Power: 650w.
· High Intensity Energy (HIE): 10.9kJ.
· Threshold Power: 209w.
Then, on September 21st, on a local solo effort, THIS happened…!
THAT, dear readers, is a
FITNESS BREAKTHROUGH
.
What's a FITNESS BREAKTHROUGH? Well, it's when your ACTUAL POWER OUTPUT is HIGHER than your Predicted MAXIMUM POWER AVAILABLE!
For FOURTEEN SECONDS, Jim was pedaling at a power output that was ABOVE his MPA. Was the model wrong? NO, NO, and NO. He just hadn't put that level of effort out before, and he earned his "Medal" on the Garmin 1000 Screen!
So remember those previous Max, HIE and Threshold values that we had been using? Here's what a breakthrough means for those…
· Peak Power: 649w (we still haven't really worked on a true "Sprint", but that will come.).
· High Intensity Energy (HIE): 12.4kJ (a gain of 12%).
· Threshold Power: 214w (a gain of 2%!).
And here's what the chart looked like after the re-analysis.
Now, interestingly – take a look at Jim's PREVIOUS hill. It's the one in red that is on the left side of the image. Notice how the MPA line (Dark Blue) kind of follows the curve of the red line, which is wattage? I've seen this a bunch, and I love it; It's basically a way for a rider to "Get More" out of an effort. In other words, you can always go a bit longer at a lower intensity, and not dig too deep. In this case, Jim knew that he really wanted to hit the SECOND hill stronger, and he followed a more "Steady" profile. The terrain dictated the watts and cadence, but yeah – this was a solid moment where Jim was able to "Chase" his MPA, and then break it.
But wait – it gets better…
Here's a chart of Jim's recent activities. What you'll see is typical with all cycling exercises; if you don't train hard here & there, your Max Watts, Threshold and Anaerobic Capacity (HIE) will slip a little. But when Jim went out and rode THAT SAME RIDE JUST TWO WEEKS LATER….
So what had been a 214w Threshold and a 12.1kJ HIE, slipped, and when Jim put the spurs to this hill again… Well, the model needed some updating, and here it is…
· Peak Power: 651w.
· High Intensity Energy (HIE): 12.9kJ.
· Threshold Power: 219w.
Here's the Updated version.
What you see is basically that the MPA slope is more gradual, which makes sense; when you train for higher intensity, it allows you to go harder, longer. Because Jim has real data, and paced himself according to the MPA app on the Garmin 1000, he had another Gold Medal, and got to update his training information from Xert.
But you may think that this is just one example…. Well, here's another.

Jing was a great client of mine, who got a job and moved to Northern California, and he's experiencing the same type of thing; Breakthroughs that translate to more successful cycling.
Here's Jing's Activity Chart; I've highlighted his first Fitness Signature, after an adjustment period when he was moving in, unboxing, etc.
His Fitness Signature in mid-September read:
· 673w Peak Power.
· 21.3kJ HIE.
· 251w Threshold.
What set this Signature up was this particular hill in Palo Alto, called "Emerald Hill". Here's the wattage and hr and MPA profile.
This was his first ride out on this type of terrain, and he was nervous, so you can see it in his wattage profile; it's at or above Threshold, but he doesn't last long above it, before backing off.
So, here he is a couple of days later, where he had another Fitness Breakthrough, though it wasn't quite where you might think….
The image is of the hill that he climbed, and you can see that he marshalled his resources well, using the data in the Garmin 1000, and pushed it on the final part of the climb.
But here's the catch; remember how I harped about Jim needing to get a "Real" Peak Power? Well, elsewhere in this file, Jing actually DID hit a new Peak Power, going from 653w to well over 800, and that altered the Fitness Signature Significantly.
With the new data in hand, it looked more like this:
· 811w Peak Power.
· 20.0kJ HIE.
· 249w Threshold.
And that tells me that maybe he could have eked out a slightly better hill effort. Well, here's the next week….
So you can see… he's learning how to "game" the hill, using his on-screen MPA and Wattage App!
Here's the next week. Same hill.
I'm actually going to zoom in on two efforts, since he kissed his MPA on both of them, BUT HE DID NOT SURPASS THEM!
Here – Have a look:
He's learning how to "game the hills"! In our discussions, he's come to realize that hills like this are a game of patience and pacing. They're not perfect, but I like how he's playing it a bit conservatively at first, and doesn't tap in to his HIE until the last 1/3rd of the hill, and he still doesn't go too far. Now – could he go harder? Certainly! But that's at the cost of possibly blowing up. We'll continue to work on his Threshold, but I'm really happy with how Xert makes teaches you how to "Think" a strategy, be it a hill, an attack, or a pacing strategy for any recreational athlete.
Finally, I'm going to recount my own experience from this weekend.
Work and Coaching have really taken their toll on my time, and it's been rare for me to get out and get any real consistency or volume, other than lifting weights 2-3 times a week, and maybe getting to ride in between other efforts. But that said, I AM a "fast-responder" to stimulus, and after getting in some decent rides on some weekends, I had a couple of experiences of my own, using the MPA App.
First – there's a hill in Glen Rose, TX, that was once part of their rally course, which always spelled the "Make it or Break It" moment for me in this rally. It's just 4 miles from the finish, but the cyclist who "gamed" the hill best, usually got to solo home.
I NEVER got it right.
But recently, I've been back out there, and with the MPA App and my metrics inserted, I tried to "game" the hill with a better pacing Strategy. Here's the first effort on this hill in, oh, 6 years? 7? I really don't remember completely.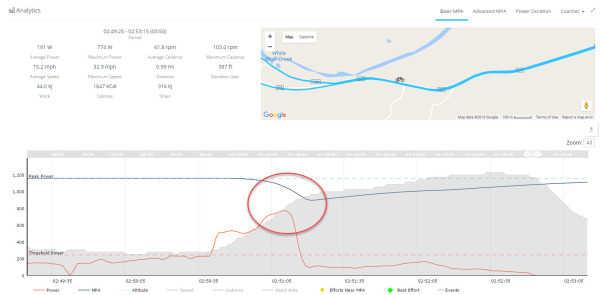 Do you see where the red circle is? ROOKIE MISTAKE!!! I rode TOO HARD, TOO EARLY, and I FORGOT ABOUT THE SECOND HALF OF THE HILL!
I can't show it right now because my internet is kludgy, but my heart rate went through the roof on the steeper part, and I basically blew up and denied myself a smoother transition going in to the second part of the hill, right after the "knuckle"! So MPA and Xert revealed that I COULD have ridden it better. I just screwed it up.
Here's the second time I tried it – about a week later.
*** Believe it or not – this IS the same hill; my internet is not cooperating and I'm having trouble zooming in appropriately.
Notice the difference in the two wattage profiles? The first is more of a parabola, while the second is more elongated, and doesn't really kick up until AFTER the knuckle in the hill. For this hill, I was watching my Garmin 1000, and I watched that Xert App as my wattage went Black (Threshold), then Yellow (<3min of MPA remaining), to Red (<30sec MPA remaining!), but I never was able to make it go Purple, because I WAS COMPLETELY KNACKERED by that point! Again – I can't show it, but my HR broke 190, and I traveled a good bit further up the hill before I backed off.
(Edit – HERE it is… Finally)!
Finally – this past weekend, I had the chance to ride a good old-fashioned rally, and about 20 minutes in, I was dealing with some riders that I don't particularly feel safe riding around; they always wear earbuds – in grupetto's – and you can hear their music when you ride beside them, it's so loud. AND they're a couple, AND they don't really have a sense of situational awareness. So, with just a few people left in the front, maybe 5, including me, these two, and two others, I saw a hill, and I saw an opportunity.
I had already depleted my MPA a bit here and there as we picked up our speed, rolling out of town, but at this moment, I increased my power output as the hill rose to meet me, then stayed steady at or around my threshold, and finally increased my wattage one more time as the hill picked up its' pitch one more time. Looking through my right arm, I noticed that the shadows which had been behind me were getting gapped, and after another 20 seconds of Threshold, I was alone.
Now, I TRIED to go from "Yellow" on the MPA app, (<3min of MPA left) to "Red" (<30sec of MPA left), to "Purple", but it just got to the point where it was crazy-hard, I felt like my eyes were going to pop out and my lungs were going to burst… and I backed off, which you can see in the image. I was able to keep pedaling as the gradient lessened, and while my MPA didn't necessarily rebound, the Red/Blue gap opened up, giving me some room to recover.
The result? Well, I spent the rest of the ride alone, and had the motorcycle escort to myself the entire time.
Here are my overall results from the day:
It was a pretty good day: nice average speed, great kJ count, GREAT Strain value, in perfect temps, under sunny skies, rolling terrain, and the knowledge that THIS STUFF REALLY, REALLY, REALLY works.
Xert takes a complete re-think of intervals, efforts, hills, and timing. I think that was one of the things I was never good at when I was racing all the time: I had really bad timing, and didn't figure out when to play the game and when to back off, and recover. Now? Well, I had some idea of it with W', but the model, especially on Anaerobic efforts, just didn't hold up. This Xert MPA stuff? In REAL TIME, with REAL VALUES yielding REAL RESULTS?
Well, it works!
Want to learn more about Xert, MPA, and how you can apply it for yourself and your cycling? Check us out at
http://bit.ly/BikeCCD.


---
Get more out of every workout with the best trainers and coaches in the Metroplex!
---
Tire pressure in the Tour de France is a hotly debated topic, and it pits the age-old accepted protocols for inflation against new evidence that has come to light through science and technology in recent times.
Remember that these cyclists are on their bikes, are working hard, and get paid to ride. They have cars full of extra wheels that allow for quick exchanges. Flats are an inconvenience, not a major affair. After 3 weeks of racing, the difference can come down to mere seconds.
You, on the other hand, don't get paid to ride (neither do I, really...), and probably have no follow vehicles when you head out. You want your tires to do three things really well:
Allow for safe control of your bike in most conditions.
Allow for safe braking, cornering, and acceleration.
Allow for comfort without sacrificing too much performance, and vice-versa.
But on the question of tire pressure (for a standard road bike), go with this formula. It's provided courtesy of Dr. David Nayer, who built wheels under the name of Nimble, in Austin, for several years:
Start with 110 PSI in your tire:

Add 10psi if you're a Large rider (>170lb rider) - wider tires (25mm) also recommended.

Add 10psi if you're riding track or TT narrow tires (20mm clincher, 19mm tubular)

Add 10-20psi if you have a specialty suspension frame (beam seat, suspension fork)

Remove 10psi if you're a Small rider (<140lbs)

Remove 10psi if conditions are wet - this is also a case where we advise the use of wider tires.

Remove 10psi for Rough terrain - also advise wider tires.

Remove 10psi Challenging handling (mountains, cornering, Crits, etc.).

Remove 10psi for Less experienced riders (improves handling, comfort)
So for a cyclist like me, weighing in at 160lbs, I'll start at 110psi. But my route has a lot of chip-seal on it, so I'll take 10psi out. If it's raining, I'll take another 10psi out. That would leave me with 90-100psi, depending on my route and needs.
My wife Tracy, on the other hand, would start at 110psi, take 10psi out for her weight (125lbs), and another 10 for rough roads.
Again - you can adjust it for your own skillset and needs, but NEVER inflate your tires to maximum pressure. It's not necessary, it doesn't help, it's less comfortable, and it can be dangerous. I once overheated a tire when descending the Alpe d'Huez, and the explosion not only destroyed my rim, it echoed across the canyon like a cannon blast. I was MUCH more careful after that.
Tire pressure should focus on safety, comfort, braking, cornering, and acceleration. There is no ideal tire pressure, just the knowledge that comes from experience. We hope this helps!
---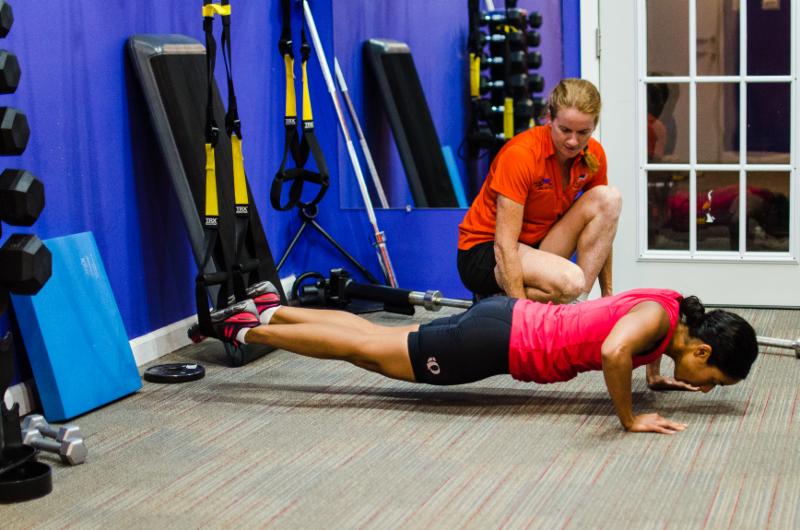 Watching the Tour de France, you get the opinion that for most of the riders, training is all about long rides, hard intervals, varied terrain, and suffering to make not just the cut, but to drive all the way on each stage, legs churning and searing, lungs busting, until they reach the Champs Elysee in Paris.
It may have been that way in the past, but no more. Cyclists perform better when they train the entire body, and the best way to do that, is with resistance training.
There are many ways to train the muscles that stabilize the torso, but the absolute simplest, most minimal set of activities you can do are the following:
Push-ups
Chin-ups
Sit ups or crunches
Back raises
Leg curls
LOTS of this can be done at home, or with something as simple as an inflatable exercise ball, but resistance training is arguably best practiced under the watchful eye of a professional trainer. Coach Tracy's specialty is TRX and body weight suspension, which is fun, helps with balance as well as muscle development, and doesn't require lots of equipment.
There's no way to quantify just how important resistance training is, but anything that helps increase efficiency, power, and stamina, will help propel you down the road, up the hill, and through the next corner. You won't gain weight, and in fact, you may lose some. You won't increase or decrease flexibility - that's something else. Instead, you'll develop muscles and control that improve your overall ability. Try it year-round, twice a week, in different modes and manners. It doesn't take long, maybe 30-50 minutes, it burns a lot of calories, and it complements cycling activities perfectly.
Oh - it'll also reduce the likelihood of injury.
Thanks for reading, and if you have any questions about this tip or how resistance training at Cycling Center Dallas can improve your cycling, give us a call or just stop by! We're here to help!
---
This is just a quick video recap of an exciting result we got last night at Cycling Center Dallas. Using a Client's Critical Power Data, we calculated her W', or, Anaerobic Work Capacity, using PerfPro Studio. Then we underwent an 8 week block of MAP/Vo2Max training. We are testing this week, and did some 'Pre-Test' work last week. Using this Cyclist's most recent 3,8, and 20 minute Mean Max Values, we predicted a Critical Power of ~175w and ~18,100 Joules of AWC. For the Test, I had the client focus on keeping W' as 'Full' as possible for the first half of the workout, and to work on increasing the RATE of use, until, at or near the very end, she was either completely spent, or even below her AWC. On PerfPro, this is depicted on the dashboard as "100% down to -X%", and when you dip too far below Zero, it's usually a good weathervane telling you that you've adapted and have a higher Critical Power, a Higher AWC, or both. This client followed my instructions perfectly, and per her 'OLD' Critical Power, set a new 20MMP of 200w, and hit a "-22%" on her W' during the test. When I entered her new 20MMP, and kept the older 3 and 8 minute mean max numbers, her Critical Power jumped up by 10 watts, but her AWC/W' dropped by about 3200 Joules, or 3.2 KiloJoules. However, MORE IMPORTANTLY, when I applied the NEW CRITICAL POWER and AWC/W' values... the AWC values ended up PERFECTLY ALIGNING, and she ended the test at.... 0% W'. She literally "Left With Nothing Left!", which, as you know, really is my motto. I'm more convinced than ever that this model for Anaerobic Work Capacity (W') works, and that we as coaches are on the leading edge of a training breakthrough. We'll be better able to help our clients understand how to handle any ride, any challenge, any hill, any climb, any long endurance ride, and any race condition, if that's where their spirit takes them. NO ONE, and I mean NO ONE, has applied this knowledge and information like we have, and I'm incredibly grateful for Drew Hartman, Philip Skiba, and all the other Scientists and Coaches who have brought us to this frontier. Watch the video for more.
---
A few days ago, I posted about all of the things I think I'm seeing when I put a Moxy Monitor up on a client's leg. Well, here's an example.
Mike Brandley is a client who focuses on mountain biking, so his season and schedule can be a little bit different than others. He came in early one morning this week, and while excited to be working out, during our warmup and bike prep, he revealed that he'd forgotten to eat on his way over. I told him I wanted to try the monitor on him, and that it might tell us some things that he and I might not otherwise know.
Here's a cut from his workout. Unfortunately, we still need to get a broader range for the red line, which indicates Total Hemoglobin, but I'll provide several images to enforce my point, with details...
Now, if you look first at the warmup, the green line is the SmO2, and the red line is ThB. Follow the red line out to about the beginning of the third green spike, and notice the little red notch. I was looking at the rider's dashboard, and I noticed this immediately. Also notice - the Rider's SmO2 was NEVER that high to begin with during the warmup, and it began to crater in to the SINGLE DIGITS during the first two intervals!
But wait - there's more. Notice how each time the rider recovered from an interval (Remember, the green line when it's low indicates the interval, and high indicates the recovery) at a HIGHER level? This is where my two terms from the previous blog post come in to play. I believe that Mike's "ACTIVE RESTING SmO2" level is pretty low - around 35-38%. However, IF WE HAD PROPERLY WARMED UP, USING A LONGER PROTOCOL AND SOME SHORT, SHARP INTERVALS AT HIGHER INTENSITIES, then we would have found that his "MAXIMAL SATURATED SmO2" would be around 60+%. This would have made for a BETTER WORKOUT, because we could have combined what we know about his SmO2 levels, with his wattage intensities, and adjusted things accordingly.
BUT WAIT - THERE'S MORE!!!
Remember that little knock in the ThB Red Line that occurs around the recovery time after the third interval? Here it is in a close-up.
THAT, my friends, when combined with a LOW SmO2 during a Vo2-themed 2-minute interval... IS A CALORIE-RELATED BONK!
Look back up at the first graphic. After that little knock in ThB, it never really came back up. HOWEVER, after feeding him a BONK BREAKER, around 300 Kcals, and forcing him to drink a water bottle with an appropriate amount of OSMO Active Hydration in it, here's what happened....
SmO2 did NOT really recover to near the previous 'Maximal Active Saturation' level, but the "MINIMUM SATURATED SmO2" level, or the 'Vo2' Plateau that I believe leads to the best biological response for the rider on THAT given day, bottomed out at a HIGHER level for each interval, around 10, then 12, then 14 percent. Now, let's add wattage back in to the picture.
Mike's Critical Power, on paper, is about 255 Watts. These were two-minute intervals, based on slope, and I wanted him to finish the intervals with an average over the two-minutes at 110-120% of Critical Power. I don't have the CP/FTP line on the chart, but you can see that he was able to rally, and completed the entire workout, performing rising-intensity intervals, at the appropriate training dose.
What's the moral of the story?
Sometimes, the wattage doesn't give us the complete picture. Having onscreen Muscle Oxygen and ThB gives the smart coach an extra tool to determine what's best for a cyclist on any given day. In this case, we were able to more quickly determine that Mike's fasting from the night before could lead to a failed workout. Had we been using wattage alone, we may have collectively ended up beating our heads against a wall as we tried harder and harder to accomplish something that just wasn't feasible. Instead, we rectified it immediately, got him fed, watered, and salted, and he was actually able to IMPROVE the quality of his intervals, and later, ACHIEVE THE GOALS SET OUT FOR HIM, without throwing in the towel. His Muscle Oxygen range helped him get the proper training dose, in conjunction with wattage, and the ThB values gave us a really good clue about how much was in the tank, and how quickly it was depleted. It's hard to show in this blog, but for the savvy reader, if you download and purchase a copy of PerfPro Analyzer, the 'Analyze' tab includes max,min, and average Smo2 and Thb PER INTERVAL. I've taken the liberty to export the chart to Excel, where I made a simple graph.
What you see is that after the initial 'Bonk', he ate and drank, and had a ThB Rebound. Later, it tapered off again, AS HIS POWER CAME BACK UP, and for the last 10 minutes of the workout, which was two, separate 5-minute intervals AT CRITICAL POWER, well, the ThB continued to rise.
I'm convinced that this tool, in the right hands, can complement our goals of helping recreational cyclists accomplish their goals, each and every workout, through the combination of watts, heart rate, and now, muscle oxygen and total hemoglobin. Here's my takeaway from this client and his workout, some of it's simple, some, notsomuch.
ALWAYS show up for a ride or training session properly rested, fed, watered, and salted. That's what Grape-Nuts and Greek Yogurt is for.
EAT and DRINK throughout the workout. I don't care if you're trying to lose weight. Training to raise your Critical Power will help you burn more KiloJoules, ergo, KiloCalories, and you'll end up losing the weight anyway. Eating and Drinking a light-sugar solution like OSMO, will help keep the ThB Levels and SmO2 levels higher. I THINK having a higher value in both, is optimal.
IF you know an athlete's SmO2 levels for "Maximum Active Saturation", you can then modify a workout and train for DOSE, instead of training for a wattage output goal. We know more about Mike's Max Saturation, and per the later intervals, his appropriate minimum saturation. We'll train for DOSE, and use WATTS as the resistance, while setting a general FLOOR for SmO2. We'll also track his HR, which I bet, I bet I bet, will drop as he gets back in to his training regime.
ALWAYS, ALWAYS, ALWAYS WARM UP! Starting a workout cold or unprepared can hurt you physcially as well as mentally, so ALWAYS give yourself 20-30 minutes to warm up, and ALWAYS include several 20-40 second pick-me-up intervals at high intensity, with adequate recoveries, so that you will begin the intervals with the highest SmO2 and THB levels possible.
That's it for now - I'll try to write more in the upcoming days, but until then, don't forget - if you haven't come in for a first ride, download the App and let's get you in. The upcoming season is nigh upon us, and in Texas at least, it won't be cold for long!!!
---
Cycling Center Dallas is proud to be among the first users IN THE WORLD to employ on-site Anaerobic Work Capacity/W Prime in real-time. What is AWC/W'? It's your BANK ACCOUNT of ENERGY ABOVE Critical Power. It's HOW MUCH ENERGY YOU HAVE AVAILABLE WHEN YOU ARE WORKING HARD. It's NEW, it's ACCURATE, and it will HELP YOU BECOME A BETTER AND SMARTER CYCLIST. Come by the studios for a free class, or if you're outside the D/FW area, purchase a copy of PerfPro and let Online Bike Coach help you improve your Stamina, Speed, Strength, and Skill this pre-season!
---

Whenever I travel to a bike rally, it's usually done before sunrise, and I end up having the privilege of driving into these small towns as the day begins. When you live in Dallas, and spend a lot of your time either indoors, or commuting between home, work, lunch, and other intra-city destinations, you kind of lose a piece of your soul and your spirit because of the fact that you're just engaging in a routine. You may notice the new house, the new paint job, the new roof... you may get frustrated that there is construction on one of your major roads, but by and large we tend to overlook too many details.


When I get up early, and usually when I am driving to my destinations alone, North Texas takes on a different look. This morning, as I drove through Dallas and over to Mineral Wells for the Kiwanis Crazy Kicker bike rally, I was reminded of just how lucky I am to live here. Many of you know that I enjoy traveling all over the state, and riding my bike. Recently, I have been engaging in these Ultra cycling events, more for fun than anything else, and just the mere fact that we are riding our bikes in this expansive land, through these small, smaller, and downright tiny towns, villages, and even just crossroads, takes me back to my childhood home on Sunday afternoon's watching a sort of world history/anthropological review of Texas Country Reporter.


There really is something extremely unique about the bike rally system in North Texas. Think about it, from late January through mid November, we have almost 30 weekend opportunities to ride in the suburbs and exurbs of the Dallas and Fort Worth area, on roads that are rich with history, are actually maintained pretty well when compared to other parts of the country and the world, and raise funds for great local causes. Driving into a sunrise, and watching the world of nature sort of wake up around me, even from behind the windshield of the car, is sort of spiritual. I think about migration, I think about how rugged these landowners are, I look at the ruins and abandoned homes and businesses, and wonder with some regret how and where these people went, and it only increases the joy of anticipation that I get for the day's ride.


Mineral Wells will always be special in my mind, because it was in the summer of 2010 that I first met Tracy, at a time trial in Graford, which is a small crossroads located about 11 miles outside of Mineral Wells. It is our first destination for rally-goers who are riding certain distances.


Texas is a rugged part of the world, with most of its resources lying below its surface. It is the people, attitude, that really make it tick. We all have different opinions about what is the best way forward, but that's just it, Texans always go forward. They are restless. They have attitude, and a type of confidence/braggadocio that is unmistakable. They swing clubs on crappy little par three golf courses until they develop adeptness that will make them scratch golfers. They handle the extreme Texas heat, humidity and arid ground with resourcefulness. It's not that they're doing anything different, it's just that they do it more. It's this and innate pride. It's this liberty. It is this non-fear of failure, and this expectation that one will not fail. I'm sure that it makes for a bit of a hard family life, and of course if one is born without access to resources, that just makes it that much more difficult, but from my point of view behind the wheel, and then behind the handlebars, I find myself looking at the road ahead, with a solid line on the right and a striped line on the left, and feeling like just about anything is possible.


God bless Texas, God bless America, God bless small towns, small, greasy-spoon coffee shops, chip-sealed county roads, and big attitudes.
---
I have a framed quote in the Studio in Richardson, that was pulled from a magazine a long, long time ago. It comes from Gary Klein, who was one of the pioneers of Mountain Biking. It reads like this... :


"Mountain Biking is about adventure and the rediscovery of your childhood freedom. It removes you from the daily grind and puts you in an environment with endless possibilities. Wildlife, Epic Views, a personal epiphany about what really matters, and tasting your own endorphines after a long, hard climb. The reward is looking back at obstacles, that are now behind you, and realizing that anything is possible."


I think this very theme should be applied to road cycling on hilly or even mountainous terrain, and on the weekend of September 27th, that's EXACTLY what I did, with clients Brian Terrell and Kyle Keeter.


The morning began with a 2-hour trip North, to Ardmore, Oklahoma. It's interesting - when we live and spend most of our days in North Texas, getting outside of that bubble is revealing and refreshing. I've noticed before that the moment I cross in to Oklahoma, traffic on 35N just begins to space itself out, until there are moments when you feel that you're the only vehicle out on the road. Furthermore, the lack of traffic tends to lead to a better highway ride, and I certainly felt that. Second, the terrain becomes noticeably more rolling, and you find that your Cruise Control sometimes has to shift down to help you hold speed. It's times like this, when I know that I'm in the type of cycling terrain that I love the most!


I got to Ardmore early enough to eat breakfast right off the highway, and it brought back a vague memory of a time when I traveled to Kansas City with my grandparents by car. Both of them are gone, but I remember they used to stop at Ponders, which was a great place to eat breakfast. Well, Ponders has been sold to a chain, but I did get to have a good healthy breakfast, and I'm glad I did, because we ended up riding over 80 miles that day, on some GREAT terrain!


I met up with Brian and Kyle in a city park, and after prepping our bikes and ensuring that we had enough food and water, about 12 or 13 of us rolled out. It was about 10 degrees cooler than D/FW, and we rolled DUE NORTH on US77, for about five miles, before the challenging terrain began to present itself. Now, I was with a number of cyclists with whom I was not familiar, other than my clients, but we remained friendly and comfortable, until around mile 12, when the first true incline presented itself. This actually ended up being our longest climb of the day, but it was deceptive.


I'm going to provide a link to the ride through
www.ridewithgps.com
. I think it's public, but you may have to register. I prefer Ride With GPS to the other guys because I helped them early in their development, the owners are friends, and they don't have nearly as much gobbledy-gook junk and advertising as the other map-based trip sites. The image is the link, so click on it to follow along. While we're here, lets' have a quick lesson in wattage, slope, pacing, heart rate, and how to use a power meter effectively.
Once you're in to Ride With GPS, use the zooming feature to look at roughly miles 11.75 through 13.25. Click on Watts, HR, Cadence, and elevation, and then look in the upper right area, and make sure you're on the 'Metrics' tab. Everyone's results will vary here and there, but here's the gist of it.


Now, look at the timeline image on your browser, and then look again at the image above. We've got moment-by-moment, and then summaries of the block. Now, let's get my description of what happened and why...
I was concerned in the morning rollout, upon seeing just how calm things were and how far we could see, that the climbs, when they arrived, would prove challenging, and honestly, I was right. These rides usually end up becoming ego-fests, and since I was unfamiliar with the territory, I did my utmost to let others lead. That said, I knew it when I felt it, that this hill was going to be a long, gradual effort to a peak that would be unseen and gradual. There just aren't any real immediate conversions from climb to descent in these mid-continent hills. So the mental plan I made for myself was to marshall my watts, let the natural leaders do the work, and then, when they'd punished themselves, to ride at a pace that was sustainable for me in my current condition.
That said - it didn't quite go to plan.
Terrain and company tend to dictate effort, and as slope rises, you have to respond with more raw power to the pedals. Right now, I calculate my Critical Power, which is the highest average power I can sustain for an extended period of time, right around an hour or so (similar to Functional Threshold Power) to be about 270 normalized watts, and if you follow my training programs, I believe I have about 22,000 Joules of energy available to me above that Critical Power. At 11.78 miles, I crest 269 watts, and I don't dip below that number again until 12.63 miles. I burned at least 100 KiloJoules, averaged 314 watts, though it FELT LIKE 325 watts (on this chart, it's called "WR" Power, but we usually refer to it as "Normalized" Power... it's a better way to measure power because it takes in to account what's going on inside your body on a metabolic basis, and what energy systems you're burning through), and my heart rate went from an active 147 beats per minute, to a near-max value of 193 BPM. I THINK my max is about a 196 or 7, but honestly, when a rider gets there, he or she kind of knows that there's not much left in the legs, and the lungs are going to take a while to recover. I burned almost 13,363 Joules above Critical Power, which was about 60% of my reserves, so while I probably could have soldiered on, the HR, the high Normalized Power, and my relative lack of training at or above Critical Power, had me actually backing off and settling down to a more stately sub-CP wattage of 250, then 230 watts, for the next 2 minutes, as my HR dropped, my breathing became a bit more normal, and as the slope lessened, my cadence went back up.
For the record, I was NOT the strongest rider on the day. In fact, there were at least 3 other cyclists who were stronger on the climbs - some younger, some older. But the point is that I rode that hill, and others that I'll describe next in this post, with a pacing strategy that worked for me, and allowed me to improve over the course of the day, while also teaching my clients some of the same concepts.
Here's an image of the 'Meat' part of that first climb.

Not surprisingly, once I dropped my wattage BELOW Critical Power, HR dropped, cadence rose, and my Critical Power began to reconstitute itself, so that I could hopefully be better prepared for the next set of climbs.



Now that the first real "Hill" was out of the way, and I knew my limits, I spoke with my clients, Brian and Kyle, and asked them how they'd paced themselves. Though I don't have their files with me at this time, I did learn that they, too, had basically pushed themselves to a point where they couldn't sustain their effort, all in an attempt to 'keep up' with other cyclists, and they'd taken themselves to a point where their HR and cadence just could not be sustained. In other words, they "Blew Up", and were unable to sustain even modest wattage below Critical Power, for a period of time. We then decided that on the NEXT hill, which was several minutes away, when we'd be more fully recovered, we would attempt to roll up the hill at a rolling 30-second average of 120% of FTP. How did that work? Well, here - have a look.



The next hill was roughly 8/10ths of a mile, at a noticeable 6.2% average gradient. If my FTP/CP is roughly 270 watts, then 120% of that is ~325 watts.


So, with a goal in mind, I didn't quite average 325 watts, but I DID average ~315 watts for 4 minutes, which comes out to about 115% of that Threshold FTP/CP value, and THIS time, I was SLIGHTLY stronger, and kept myself a bit closer to the leaders. HR didn't go through the ceiling, Cadence was modest, around 84 rpm,
With an FTP of 270 watts entered, the predicted cadence, riding in the easiest gear on my bike, which is a 39 tooth chainring up front, and a 25 tooth chainring in the back, while weighing in at 82 kilos, riding 170mm cranks (I like them short for my hips and for aerodynamic positioning), yields a predicted cadence of 86 rpm. What did I actually average? .... 84. That's ~2.5% off. NOT BAD! NOT BAD AT ALL!!! Interestingly, when we look at my predicted speed of 16.87 kph, vs the actual speed of 11mph, which is 17.70kph, the delta there is about 4% above the prediction. Again - you know, I will take that any day, and the reality is that there were probably some efficiencies in my setup or aerodynamics that may have affected those numbers. I was riding tubular tires on aero wheels, for example, and I was wearing an aero skinsuit. Stuff like that. ALL of it matters!
But back to the hills of Ardmore.
We rode like that for the rest of the day. Climbing at or near 120% of FTP for the longer climbs, not worrying too much about what our rolling 30sec and per-lap Normalized Power numbers were for the shorter hills. The day ended up being just about perfect in terms of temps and wind, but this leads me to a final thought to share.... When it all matters, at the end of a ride, it's how you managed all of your energy in the hours and minutes before, that count the most.
The 10 miles back to the car were a straight shot south, along the route upon which we had traveled outbound, and the return home, in the early afternoon, ended up just hitting that period of time in the day when the WIND picks up. And if you live in North Texas, or in this case, Southern Oklahoma, most of the time, in late September, that wind comes STRAIGHT OUT OF THE SOUTH or SOUTHWEST. So we were in for a LONG, HAUL, HOME.
Now - Hop back on to the RideWithGPS tab, and look at the final ten miles or so. Specifically, take a look at the wattage profile... Here's a glimpse.
Kyle and I both had to get back to Dallas for early evening appointments, so we left the bunch and did our best to paceline ourselves back to the cars. However, with the winds only growing, and the fact that Kyle is roughly 8" taller than me, and just less experienced with wattage pacing, we turned it in to another teachable hour.
We started off agreeing to NOT go above our respective thresholds, and to attempt to alternate pulls for about one minute before dropping back. We also agreed to communicate if one of us was just simply pulling too strongly and dropping the other cyclist. When that proved too much, I took longer pulls, and made sure that when we both pulled in our turn, that we did so further and further below FTP. Finally, when Kyle was just hammered, I took over and pulled us both in. It was TEAMWORK that led to the grand finale, but it was also the fact that these were the final miles of a HUMONGOUS effort, for which we were only mildly prepared.

Any chance you get to head out to new scenery or location or elevation, please, go do it. Trap that data on your power meter. Analyze it. Use the tools I've mentioned above so that NEXT TIME, you get out there, you'll remember what you're capable of, what your limitations may be, and how you can optimize your ride, in the moment, as well as before and after. Wattage and Science and Training really CAN serve to make it more fun. You just have to know how to look at that hill, at that course, at that day, and both prepare for it beforehand, and make the most of it while you're there!

Ride on! - I'll try to get a post of the Glen Rose Rally up shortly. Thanks for reading!!!
---