When we first began looking at power meters and the information they provided, converting that data in to knowledge was a real shot in the dark. Scientists, coaches and athletes knew that they wanted to generate more power, more often, for longer periods of time, but they really didn't know HOW to get there. Traditional training methods have been slowly overturned as the digital age accumulated knowledge, and converted it in to useful information. That said, there's always been 'wiggle room', and the interpretations for power, energy, and fitness, and specificity have created great opportunities for coaches and recreational cyclists alike, the human trend toward 'logic' has us always searching for a better way to read wattage files, and look at ways to do "X", and get "Y" results.
The latest method of doing just this comes from Baron Biosystems of Canada. Their platform, called Xert, provides a unique way to take instant and empirical data from a cyclist, measure its' effects on the body, and then determine some crucial elements that can determine the effectiveness of a workout, and the effective trend towards a goal. I'm really excited about this technology, and I think that it will be incredibly useful for riders and racers of all levels here at Cycling Center Dallas, and via the internet through Online Bike Coach.
Let's start at the beginning.
First – a cyclist just creates an account on XertOnline.com. If the rider has an account with Strava.com or Trainingpeaks, older data can be imported and analyzed. If the cyclist has data on a Garmin with a .FIT or .TCX series of files, then the data is imported just like a thumb drive. The meat of the setup is found in the area titled "Athlete Type". Here's an image.
There are twelve different types of cyclist described, from a 10-second "Power Sprinter", to a "Below Threshold Power" Triathlete. Just read through the descriptions, and select the area where you think your cycling strengths best apply. Some knowledge of ability is required; if you're in doubt, defer to something in the middle, like "GC Specialist", which focuses on your 8-minute average power-to-weight ratio.
(One thing to note is that, even though the categories reflect cyclists that participate in longer, multi-hour events, when you look these athlete types and at their particular strengths and weaknesses, they all boil down to an ability to perform at a given duration. Everyone is unique in their ability and this chart helps capture those differences.)
The website churns through your past data over a period of minutes, to help determine several parameters for fitness. It then presents you with a summary page, showing the following:
Total # of activities
Average Ride Time
Total Ride Time
Average Distance
Total Distance.
The next line down is where things start to get interesting. The data provided for this continues to grow with more people getting on to Xert, so the data is being filtered by age and gender, and is perpetually updated. You get a "Fitness Comparison and Ranking", showing your BEST and CURRENT value. In this case, my '365' watts over 5 minutes is just 97% of my Best watts of 375 over 5 minutes, which I have hit in the last six weeks. The Median for this age group is 336 watts, and the 90% percentile is 422 watts. My 365 watts puts me at about the 66th percentile for the population.
*** Now – I DO need to make something clear, because it can be confusing. Xert's '365' is NOT the ACTUAL VALUE that I may or may not have achieved in the last 42 days. Instead, it's the MAX POTENTIAL VALUE that I COULD have achieved on this day. I'll make that more clear in a paragraph or two. Xert's unique algorithm determines this in the background and I have found it to be REALLY close every time we've tested it.
On the next section of the page, there's a GREAT image, affectionately known as the "Spider Chart". It basically looks at the 12 different power categories, and determines where you rank in relation to ALL of them. This can help you identify holes in your training, or strengths. In my Spider Chart, shown below, my most recent training has tilted me slightly toward the short-and-mid-intensity specialties, between 2 and 8 minutes, while my time schedule has prevented me from riding longer events or rides.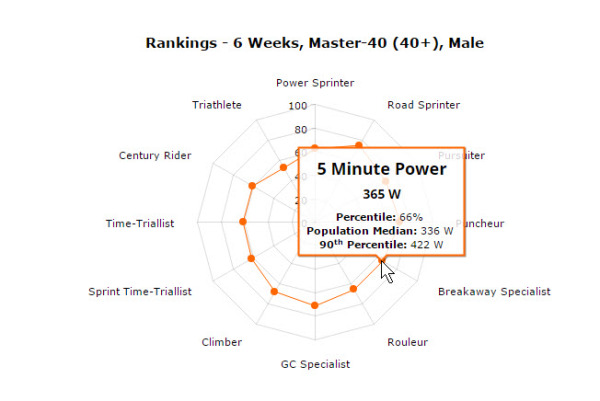 You can mouse over the orange dots, and it will re-state your current records, and where those records sit in relation to the rest of the population.
Finally, there's a 'Progression Chart'. Now, this is a bit complicated, but there is a method to it, and it does help you understand what's going on with your fitness.
The first thing to focus on is the left-side "Y" axis. The left Axis is showing, in my specific case, that "MAX WATTAGE POTENTIAL" for my chosen Athlete Type - Breakaway Specialist - 5 minute power. The circles (Best Activities) correspond to activities where I reached my 5 minute max wattage potential on that day. Mousing over these circles shows what my maximum 5 minute wattage was on that day. In addition, if you mouse over the vertical bars, "Best Activities", which is that small script on the lower left side of the graph, acting as a key, changes from day-to-day showing your maximum 5 minute wattage.
In this example, March 9th of 2016, Xert calculated that, based on everything I'd entered in prior to this day, I had the POTENTIAL to hit a '359' watt average over 5 minutes. However… after a solid block of Specific, hard training, which again, I'll explain in a short while, that value bumped up to 371 watts on April 2nd.
So that's a roughly 3% boost in 3 weeks, which, honestly, is pretty realistic. So look at that first when you get down to the Progression chart.
Next, slide all the way over to the FAR RIGHT "Y" axis. There, you'll see "Weighted Average Daily Accumulated Energy (KJ). This is NOT a part of the Progression Chart. Instead, it's a way to see, through the vertical red/purple/green bars, just how much WORK you're doing on a regular basis. Again, it's NOT a fitness indicator so much as it is a "VOLUME" indicator. We can debate the pro and con of any scoring system, but this is just a convenient way to look at work, and how it's being used on a daily basis, out to about six weeks. But it gets even MORE detailed.
Take a look at the Key along the bottom of the graph. You'll notice that in the chart above, it says
"LOW – 811", "HIGH – 56", "PEAK – 12" and "FOCUS – 7"
for that specific day of April 3rd, 2016. This is a measure of how much training I had been doing. On that given day, which was actually a race out on the Scenic Loop of Ft. Davis, TX, my "Weighted Average" of WORK, measured in KILOJOULES, breaks down to:
811 kJ of Low Intensity Energy Use (Largely Aerobic energy use)…
56 kJ of High Intensity Energy Use (Largely Vo2 and Anaerobic energy consumption)…
And ~12 kJ of PEAK energy Use (completely anaerobic and near-maximal effort).
Xert summarizes this information and categorizes it as an Athlete Type. This is the Focus Line, the 'Wandering Trail' that floats through the vertical red bars. It highlights the fact that on THAT day, when you add up all the training I had been doing, it indicates that I had been focussing my training as "GC Specialist", which is an 8-minute best average power. Xert's Focus Line helps you identify what area of your training you've been putting your focus over the past few weeks.
You'll be able to tease a couple of more things out of the graph at this stage of learning.
First, that 'Wandering Trail', can help you improve on your SPECIFICITY, and basically, stay away from rides that don't suit your goals or purpose. The more intervals you perform at a specific intensity and duration that is based on your goal, the more that 'Wandering Trail' rises or falls toward your w/t goal.
Second, the vertical bars are designed so that you have a light-red to imply ONE workout in a 24 hour period, and you have a darker-red rectangle, to reveal TWO workouts performed in a single day.
Now – let's finish up with the Progression Chart by looking at the circles and dots, and understand just what those mean.
The circles show you just how well you did on a given day. A purple circle generally means you worked hard by didn't accomplish anything special that. Sometimes when you're tired, purple circles may provide indication that you weren't able to produce your best results that day. Gold, silver and bronze circles indicate that you had shown an improvement.
A SMALL purple circle, like the one found on March 20th, symbolizes a 'but that 'Best' wasn't hard enough to merit a Bronze, Silver, or Gold Medal. The LOCATION of the dots is in relation to their wattage.
Looking at the Progression chart a couple of days later, you'll see that there are a series of Purple Dots, and they decline in power. Now, this is going to get in to a bit of coaching and over-reach vs recovery, but this was a period of time, about 14 to 10 days out from the Ft. Davis Stage Race, where I was just BURYING MYSELF in intensity! The result was that my maximal power output suffered, even as my volume and overall intensity increased. If you look at March 28th and 29th, you'll see that I ended up with a 'Silver Medal', signifying a new record and the next day, I had another purple dot that was also a record of an 8-minute effort, that was JUST UNDER the record set the previous day.
So, just to review:
Purple dots are 'Highs', but not 'Record Highs'.
Medals mean you hit a new breakthrough in fitness.
The size of the medal means how definite the achievement was.
Let's look at one more thing before we leave the Progression Chart…
Take a look at that 'Wandering Trail' or, the 'Focus' Line. You'll notice that it rises and falls. While I think there might be a better way to show this metric to the viewer, it really IS an interesting category. What it's saying is that, based on ALL of the work you've done over your recent training, the 'FOCUS' centered on one particular category in the Spider Chart or 'Athlete Type' mentioned above. As I did my workouts and tried to focus exclusively on intervals that would improve my 5-minute Power, the FOCUS line rose. When I performed rides that had longer durations, and gaps between intervals, like on weekends, my FOCUS line actually dropped. If you look at the past 3 days of workouts, you'll see that my FOCUS line once again rose, as I resumed training after a two-week hiatus.
I think there is some REAL potential here, because if you follow Xert's premise, it's not just the rethinking of power and time-in-zones and recovery that is required, it's the actual CONTENT and INTENSITY of the INTERVALS that makes for such incredible potential. And THAT is where we're going to go next…
PART II – APPLYING THE NEW IDEAS INTO ACTION VIA INTERVALS
I'm going to skip over Xert's Power-Duration Curve stuff, and will return to it later, but the reason I want to discuss the Intervals Builder first, is that it is, in my opinion, the absolute strongest feature in Xert's arsenal. Furthermore, once you have your Fitness Signature, there are APPS, available on Garmin's Connect IQ and via Android (iphone coming soon), that will allow you to further exploit Xert's Power-Duration Model and Maximum Power Available information. Again, I'll get to that later, but for now, let's discuss Xert's Interval Builder and why it's so important to your fitness goals.
Once you've got your fitness profile, and established your goals (3 minute, 5 minute, 8 minute, stuff like that), it's time to figure out how you're going to get there. To do that, head over to the left-hand bar of options, and click on 'WORKOUTS'.
You'll get two options in the sub-menu; "Standard Workouts" and "My Workouts". Let's start with some "Standard Workouts", and then we'll tinker with some custom workouts to sharpen the blade a bit.
Now, remember – my goal is to have a stronger FIVE MINUTE POWER. That puts me in the "Breakaway Specialist" category. So, I'll go the THIRD COLUMN, which is "WORKOUT FOCUS", and click through until I find some appropriate intervals. If you click on the Title, it will sort by "Focus", and "Breakaway Specialist will be on Page 1.
Now, let's click on the second workout – Seiler – and see what it looks like…
This interval set shows that, UNIQUE TO ME, if I were to perform FOUR SEPARATE, FOUR-MINUTE INTERVALS, at 372 watts (OUCH!!!!!) each, with just TWO MINUTES of recovery, that the amount of STRAIN (see middle of the image) would be adequate to optimize my 5-minute output, over time.
HOWEVER – take a look at the PURPLE LINE. That PURPLE LINE is an indicator of "MAXIMUM POWER AVAILABLE", and you can see that it intercepts the RED LINE of the SECOND INTERVAL, the THIRD INTERVAL, and the FOURTH INTERVAL. Now – if you believe Xert's programming, THIS IS IMPOSSIBLE! Let's ZOOM in so I can explain why.
Xert's Foundation goes like this: When you ride a bike, you use "Low-Intensity Energy" (your aerobic system), "High-Intensity Energy (Your Vo2 and Anaerobic Systems), and "Peak" Energy systems, which is your Phospho-Creatine System and Sprint power. The "Maximum Power Available" curve declines as you cross over your Threshold Power, and it rebounds when you recover beneath it.
For the first interval, that purple line of "MPA", and the red line of "Watts", don't cross paths. The interval ends with an "MPA" of less than 600 watts, while the interval's overall 4 minute effort was at "372". But, for the SECOND interval, the decline of "MPA" intercepts the red line with about 23 seconds to go. In the image above, there is theoretically NO WAY that I can hold 372 watts at that moment, with an MPA that is at 343 watts and declining. This happens again, a bit earlier in Interval #3, and again in interval #4. So I have to alter this workout if I know that I'm going to be able to even complete it.
If I go down to the bottom of the screen, I can see that there are three options in this interval. I'm going to extend the recoveries out to 2:30, and see what that does for me.
When I click on "Calculate", I get this…
So – I pushed my 'Point of Failure' out for the three intervals I'm concerned about, but not quite. Also – look at the 'FOCUS'. I'm still in 'Breakaway Specialist'. Let's see if I can buy myself some more recovery, and be at least theoretically successful in these four minute intervals.
BOOM! At 3 minutes of recovery, I am going to be JUST ABLE to COMPLETE the intervals, if I can hold 372 watts!
Now – as an Indoor Studio Professional, here's an ADDED Bonus. Go to that upper right hand corner of the chart, and you'll see either "TCX" or "ERG" buttons. If you click on them, they'll export the workout in to a "watts over time" protocol, for your Indoor Ergometer!!!
Here's what this protocol looks like in PerfPro Studio, the system that I use with Online Bike Coach and Cycling Center Dallas.
Now – we don't have 'Maximum Power Available' just yet on PerfPro, but we're lobbying for some type of licensing deal that is satisfactory to all parties. But this literally re-writes the book on interval training with power.
A couple of quick notes:
Traditional Zones are thrown out the window. We know what aerobic rides feel like, we know what "Threshold" feels like. Xert has apps that define zones based on CURRENT MPA, FATIGUE OVER TIME, and ENERGY USE. Thus – THEY SHIFT, based on fitness, and real-time work spent at different intensities.
The intervals can sometimes be MUCH, MUCH HIGHER INTENSITY than we're used to, and are LONGER than you may feel comfortable with. Sometimes they are the opposite SINCE THEY DON'T HAVE YOU ATTEMPTING SOMETHING YOU CAN'T DO. And THEY WORK. They REALLY, REALLY work. Many times, the workouts bring you RIGHT TO YOUR EXACT LIMIT meaning, you won't complete the very last part of the interval. THAT IS FINE. YOU ARE STILL GETTING THE RECOMMENDED TRAINING DOSE.
I think I'll stop here – and will focus on the Apps in another blog post, but you should go through the workouts, look at them, and then, click on the "New Workout" option, and experiment with building your own. You'll see how changing the three deltas of intervals – Frequency, Intensity, and Time (FIT) can alter your specialty, and can determine your Maximum Power Available, to determine whether the workout is doable or not. YOU CAN BREAK THE MODEL!!! And that's a GOOD THING. But the more information you put in to Xert, the more it's going to learn about your fitness and capabilities, and the more it will 'Tune' the workouts. One Day's "Breakaway Specialist" workout, may be tomorrow's "Rouleur" workout, as Threshold or Anaerobic Capacity Wax and Wane.
I'll be back with a full Blog about Xert's Apps on a Garmin, but for now, read through, download the FREE BETA, and insert your data. I'll be glad to answer any questions you may have.
Enjoy the ride!