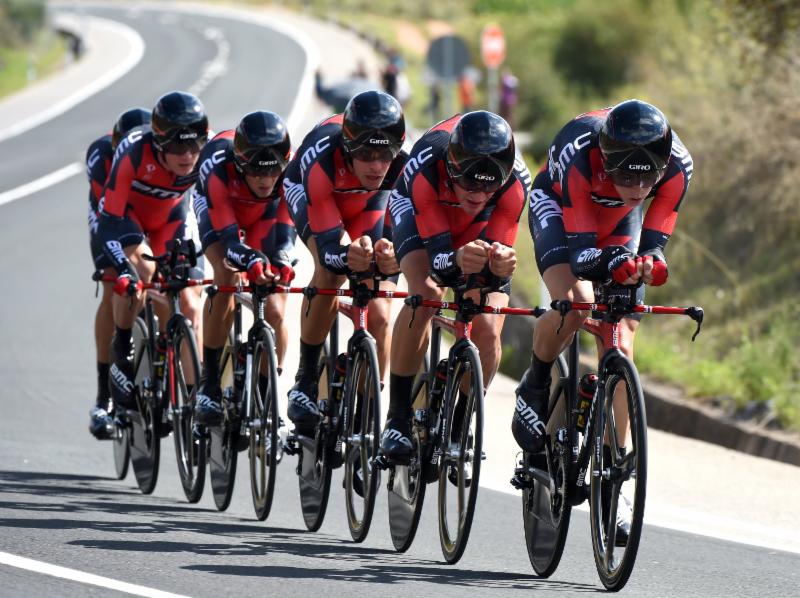 Riding alone is a critical step towards creating confidence and competence in your abilities as a cyclist. However, it can be a more anxious time, especially when, as a recreational cyclist, you're trying to 'balance' so many things, like your bike, yourself, knowing where you're going, avoiding obstacles, what route is best, traffic, weather, hydration, etc. I think the fulfillment of cycling as a sport and recreational activity reaches its' peak when you find a friend, or two, or more, and go for a ride. You can accomplish more, with less energy, and have a really great time as well.
Today's Stage of the Tour was a Team Time Trial. For many of the leaders, getting as many of their teammates to this point is critical, because they must all ride together. In fact, the clock won't stop until the fifth rider has crossed the line on each team. When you watch this stage, you can really see how the riders work together, sharing work, protecting their leader, riding in either long single lines, or two-abreast pacelines, to cover as much ground as possible in the shortest amount of time. When riders are this close, they're at their most efficient, but the chances of tragedy are also great. Crashes here can be catastrophic. It's the team that balances speed, comfort with each other, and knowledge of the terrain, that comes out on top, and the stage is always a game-changer.
When you ride with others, make a point of communicating. Set a pace that both of you can enjoy; if one of you is more fit than the other, accept this as a chance to do more work, and let the less-powerful cyclist ride in your draft. When you are employing a draft, ALWAYS signal your intention before changing lanes, stopping, or even slowing down - the trailing cyclist(s) may not always be aware of your intentions. Shift early, shift often, and focus on how, in a group, you'll all enjoy the ride more when you work together, trading pulls at the front, and being VERY smooth.
Group cycling is a truly advanced style of riding, and if you are aware of riders who may be anxious or perhaps had a previous bad experience, the Coaches at Cycling Center Dallas are specifically trained to help improve Confidence, Competence, and Communication in these situations. Give us a call and we'll set up an appointment for a group ride, in safe conditions, where we can all learn together.