Having participated in the Hotter N Hell Hundred USAC races several times now, I have gotten to experience what it feels like to have both a victory and a severe butt kicking. However, I can honestly say my most rewarding Hotter N' Hell experience was last summer, in 2014.
Actually, I did not attend last year's HH100, but instead, I spent the weekend sitting in a conference room getting a functional movement certification. What made the weekend so special was that two of my good friends and clients achieved was their first (of many to come I have no doubt) wins at a major race, with a large competitive field. Seeing the work and sacrifice put into the preparation for an event not just that year, but in all the years leading up to it, and seeing things come together on race day can be a magical and inspiring thing to witness and be a part of.
So here I was on race day, anxiously checking my phone for updates from Wichita Falls during the lectures at the Marriot in downtown Dallas. It was all I could do to not stand up and fist pump when I heard about the wins. Client Kathy Weldon took the Omnium in the Masters category, and Melissa Rodriguez won the road race.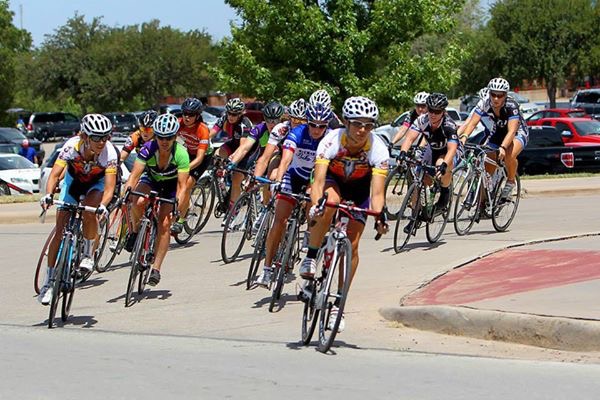 When most people think of Hotter N' Hell they immediately think of the 100 mile or the 100K rally. That is what most of the cyclist train and participate in. The difference between the mass start rally and the races is that you have to have a USAC license to participate in the race events, and the officiating and scoring is much stricter. You start with just the other racers in your category, and can only work with (or draft off of) other racers in that same field. They also tend to use a different course for the races to avoid the chaos of mixing racers with the mass of rally riders. In addition to a road race, there are also criterium races both Friday evening, and Sunday day, which are a blast for spectators. If you are headed up to the Hotter N' Hell this summer I strongly encourage you to check out the Friday evening criteriums that will be going on at the grounds. They are fast, usually technical, exciting to watch and you get to see the peloton come through many times on a short course.
Having participated in the Hotter N' Hell races several times now, it is definitely a charged, exciting environment that is a unique experience. But this year something else has captivated my interest. In addition to the 100k and 100 mile rally, there is a mountain bike race on the Friday of that weekend and a half marathon trail run on Sunday. Furthermore, there is an event called the "Triple Threat" that involves doing all three events and getting an overall time. Participating in this would give my current (very routine) training a definite shake up. Although I gravitate to triathlon from time to time for a little variety I tend to stick with the short events as it's tough for me to keep the speed in my legs needed from crits while trying to build up run fitness. And although I love mountain biking, I have yet to race in that sport. But I think it's time for me to get out of my comfort zone and let some things go in place of new adventures.
I am looking forward to a fun, exciting weekend with CCD clients and friends as well as some new experiences!