Tracy Christenson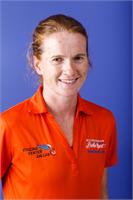 Coach Tracy Christenson has been training and coaching in the Dallas-Ft. Worth area for nearly 10 years. With a background in human performance and strength and conditioning, as well as competitive experience in cycling and triathlons, Tracy is uniquely qualified to help individuals at all levels of the athletic spectrum, from beginner to professional athlete.
Tracy holds a B.S. in Biology and an M.S. in Human Performance from the University of Wisconsin at La Crosse and is a Certified Strength and Conditioning Specialist (CSCS) Through the NSCA. Tracy is a level 2 USA Cycling coach and a level 1 USA Triathlon coach. She is certified to perform Functional Movement Screening, a process by which basic movement patterns are examined and assessed for dysfunction. She also holds a TRX suspension training certification.
In her spare time, Tracy's personal passion is training and competing in triathlons, road races and criteriums. She has several age group wins and podiums in triathlons and podiums in the Texas Racing Cup Series for cycling. She is currently racing unattached in both Road and Triathlon disciplines. Tracy has a strong interest in helping more women get involved and obtain the skills and confidence needed to be successful to compete or enjoy cycling as a lifelong strategy to fitness and better health.
Tracy Christenson is currently not instructing any classes.